Well, here it is the middle of summer and I have some weird sinus thing going on that is practically preventing me from sleeping, breathing or tasting successfully. Hopefully, I will be feeling better soon as Sunday is mine and my husband's 7th wedding anniversary. (Yikes!! I can't believe it's been that long...!) And no, although I am a fan of the
The Seven Year Itch
, I am not suffering from it.
Of course, since I've not been feeling the best these past couple of days, I have been turning to Netflix and hot tea for comfort. However, I am having trouble finding new (old) movies that are worth watching and that I haven't seen yet. Since many of my followers are also into "old" stuff, I thought it might be nice to share some of our favorite titles in case some of us have been overlooking some wonderful, unbeknownst treasure all this time.
So, I would LOVE any suggestions of old films (and when I say old, I'm talking 30's-60's--not 1985). To start things off, maybe I should give you an idea of what I
like
to watch. While these are some of my favorites, it would be impossible for me to rank my top 5 favorites
in order
, as I love them all so much for different reasons and feel as though it would be completely horrible of me to pick one over another, kind of like it would be terrible for a parent to have a "favorite" child...if you get my point.
So, in no particular order, my favorite films are...
Mildred Pierce
is a great noir classic starring Joan Crawford, Zachary Scott, Ann Blythe and Jack Carson.
Mildred Pierce
is the story of a recently-divorced, hard-working, self-made business woman who unknowingly gets in the middle of a twisted love triangle, and who will do anything for her ungrateful, spoiled-brat of a daughter...even take a murder wrap. Joan Crawford touchingly plays the memorable title character in this film (her very best performance ever, in my opinion) and won an Oscar for her superb portrayal of this role.
(And can I just add that shoulder pads and fur never looked so good! Wow!)
Ann Blythe and Joan Crawford in
Mildred Pierce (1945)
Another favorite film is
The Postman Always Rings Twice
, starring Lana Turner and John Garfield. This is also a noir classic and is a story which epitomizes the femme fatale; in this case, a woman who plots to kill her much older, boring husband in order to be with a newer, younger lover in order to be with him and keep the business which she has been working so hard to build. After being almost found-out, their plot is successful, and then something dreadfully unexpected happens... Lana Turner never looked better than she did as sexy, scheming, femme fatale Cora in this film.
John Garfield and Lana Turner in
The Postman Always Rings Twice (1946)
Then there is one of the great film classics,
Now Voyager
, starring Bette Davis and Paul Henreid.
Now Voyager
follows the transformation of a lonely spinster into a beautiful socialite, and her finding and falling in true love. This film calls to question what it means to really love someone...and how one should act if not being with that person is the only way to truly love them. This film showcases Bette Davis' increadible talent, and contains one of the most memorable lines in film history, which is spoken by Bette's character, Charlotte: "Oh, Jerry. Don't let's ask for the moon. We have the stars."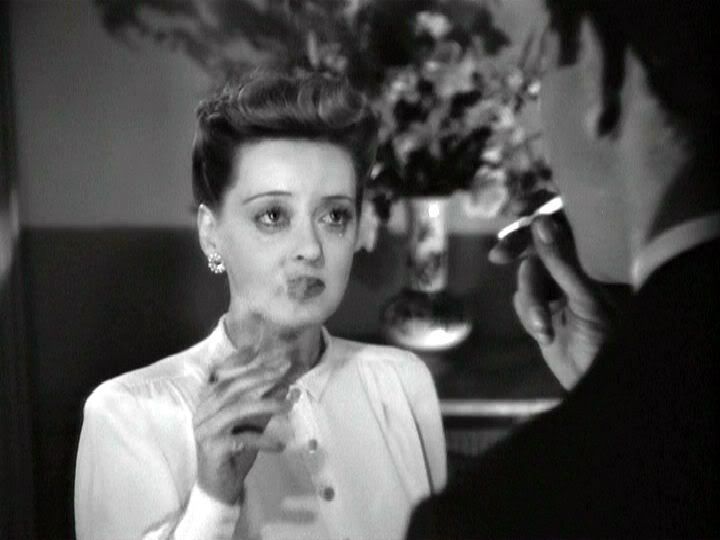 Two of the most famous smoking scenes in the history of film. Who knew so much could be said by the lighting of a cigarette?
Paul Henreid and Bette Davis in Now Voyager (1942).


Suddenly Last Summer
is a great film (which I think is very under-appreciated) and is based on a Tennessee Williams play. The film, which is actually much more elaborate than the original one-act play, has a phenomenal cast including Montgomery Clift, Katherine Hepburn and Elizabeth Taylor. The story is about Catherine, who witnessed--but cannot recall--her cousin Sebastian's gruesome murder while on vacation in Europe. To cover up the shocking cause and questionable circumstances surrounding Sebastian's death and to prevent Catherine from regaining her blocked memory, his domineering mother has Catherine committed to a sanitorium where she is to be labotomized, and thus forever quieted. It is only after undergoing therapy with a psychiatrist and using a truth serum that Catherine can completely recollect the twisted cause and disturbing nature of Sebastian's death.
Elizabeth Taylor in the iconic white bathing suit.
Suddenly Last Summer (1959)
Imitation of Life
is also a must-see movie which stars Lana Turner, John Gavin and Sandra Dee
. It is about a young, single, white actress with a young daughter who lives with a black maid and her very light-skinned daughter who tries to pass as white. This movie is about a lot of things, but namely racism, social class, self-identity and love. This film is actually a remake of an earlier version starring Claudette Colbert, and has recieved mixed reviews. You just have to watch it and judge for yourself. This is a very heavy film that is packed with plenty of emotional punch and hits you right where it hurts. Make sure that when you do watch it you have some tissues handy--trust me, you'll need them!
Juanita Moore, Susan Kohner, Lana Turner and Sandra Dee in
Imitation of Life (1959)
As I said, these are only a few of my favorite films. I could also include A Streetcar Named Desire, Double Indemnity, Gone With the Wind, Yours, Mine & Ours, Guess Who's Coming to Dinner...and on and on.
Anyone have a favorite, must-see old movie they could recommend?