(Or a Blast From the Past--Part 2)
So one of my favorite current trends is the rediscovered glamour of fur coats and accessories. Needless to say that in the 1940's fur was an absolute must for the lady who desired to dress with sophisticated glamour--seeing any film or studio publicity shots of celebrated movie stars from that era leaves you with a clear understanding of that matter. This was also true for the 1930's. In fact, the use of fur was much more common in the 30's than the 50's. While fur wasn't by any means uncommon in 50's films, the use of wraps and stoles was much more popular than the full-length fur coats that had dominated the previous two decades. Let's take a look at some of my favorite fur moments from the 40's and 50's:
Marilyn Monroe in Gentlemen Prefer Blondes, 1953
Lucille Ball publicity still, circa 1940
Marilyn Monroe wearing Chinchilla
Lucille Ball in Easy to Wed, 1946
Betty Grable in The Dolly Sisters, 1945
Lucille Ball in Annabel Takes a Tour, 1938
(From the 30's I know, but it's so gorgeous I had to include it.)
Joan Crawford in They All Kissed the Bride, 1942
Joan Crawford in Mildred Pierce, 1945
Also, I should note that it is not by accident that Lucille Ball is several of my chosen examples. While it is true that I am a huge Lucille Ball admirer, and perhaps my opinion may be slightly biased on that account, I think that she wears fur as beautifully as anyone. I think it is also true that several of her films showcase fur as beautifully as any; I particularly recommend
Annabel Takes a Tour
,
Dance, Girl, Dance
and
Easy to Wed.
If you are interested in looking at the use of furs throughout classic cinema, I suggest you visit
furglamor.com
, a great website which is devoted entirely to this topic.
But what about the current fur trend, and what does it look like in comparison to what we just saw? Well, it isn't quite as bold and dramatic, and you will definitely find many good imitation furs as well (and for a fraction of the cost I might add.) Let's look at some of this fall's furs and faux furs. Here are some current fashions (we'll look at the faux furs first.)
Now let's take a look at some of the high-fashion runway fur trends, some of my favorites include pieces by Ralph Lauren and Michael Kors (my two favorite designers.) A couple of these pictures display furs from last season, but I liked them so much I included them anyway.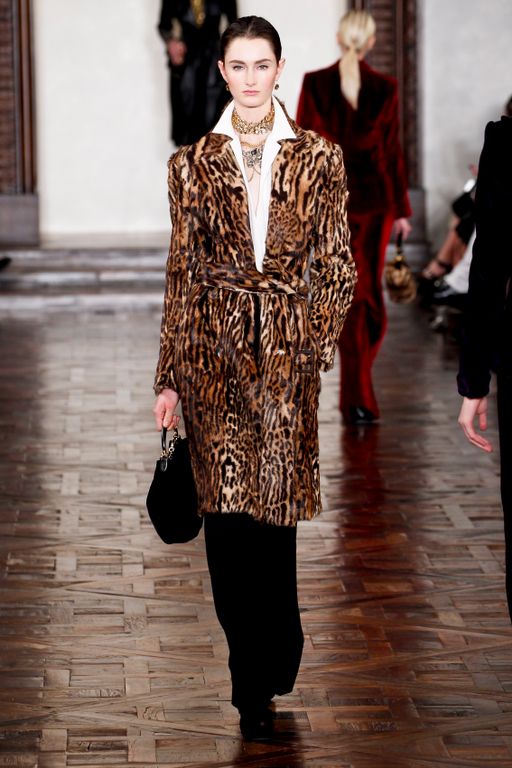 Ralph Lauren (Fall/Winter 2012)
(LOVE this!)


Ralph Lauren (Fall/Winter 2012)
(So chic and classy!)
Donna Karan (Fall/Winter 2011)
(Gorgeous wintery grey!! Puts me in mind of something the Snow Queen might wear. Haha.)
Michael Kors (Fall/Winter 2012)
(Not really a fan of this one but have seen several vests like this that are trending. Puts me in mind of the abominable snow man.)
Michael Kors (Fall/Winter 2011)
(Stunningly luxurious.)
Michael Kors (Fall/Winter 2012)
(Interesting mix of texture and color. Notice the sleeves on the coat on the left.)




I love the way that fur looks and feels. It has such a beautiful, luxurious, timeless quality that adds instant glamour and sophistication. Even if you aren't supportive of actual furs, there are many good imitation furs to be found nowadays So I'm interested in what you all think: Do you have fur-- if so, what kind? If you don't have a fur, would you like one, and what kind?




I will leave you with a couple of fun pictures of me at Sak's Fifth Avenue Fur Salon last spring. (Where it didn't take me long to realize that I could totally go grocery shopping in one of these babies. Haha!)






Me in the Fur Salon at Saks Fifth Avenue (overlook the bad pic...it's from my cell)
This is a fox trimmed number I fell in love with.
At the Fur Salon in Saks Fifth Avenue wearing a sable.
I almost died when the sales associate asked me to guess how much it cost. (88 Grand)
(Needless to say my husband also just about keeled over when I found out I had even touched the thing!)


Until next time!